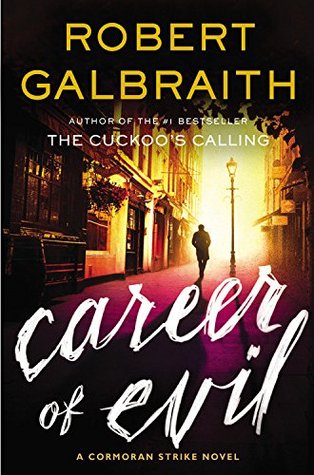 When a mysterious package is delivered to Robin Ellacott, she is horrified to discover that it contains a woman's severed leg.
Her boss, private detective Cormoran Strike, is less surprised but no less alarmed. There are four people from his past who he thinks could be responsible – and Strike knows that any one of them is capable of sustained and unspeakable brutality.
With the police focusing on the one suspect Strike is increasingly sure is not the perpetrator, he and Robin take matters into their own hands, and delve into the dark and twisted worlds of the other three men. But as more horrendous acts occur, time is running out for the two of them…
Everybody loves a good old-fashioned murder. Perhaps the serial killing variety, or the mugging gone wrong, or the impulsive knife in the back... but you know what's my favourite kind?
The kind that's planned. The kind with too many suspects. The kind with a personal vendetta against the detective himself.
Which is why Career of Evil might just be the best Cormoran Strike novel yet.
Gosh, when I read The Silkworm, I realised that I had never read a more grotesque, scarring murder mystery before in my life... and then came Career of Evil. This book has some dark, dark, themes, not to mention violent, awfully descriptive murders and sexual crimes.
However, it's all worth it, because we get a glimpse into the terrifying murderer's train of thought every other chapter, and that somehow solidifies the mystery rather than unravel it - which is fantastic.
The investigative style is also so much more different than the earlier two books. There, Strike had followed the interrogative approach, striking the names off his list of suspects one after the other. But in this mystery, the three men suspected have left no visible trails. Strike isn't even sure if some of them are still alive - but he does know that all three hated him to death.
So instead, Strike and Robin engage in a thrilling cat-and-mouse chase around the country to track down the man whose brutality knows no end - and whose next target might just be Robin.
Oh, Robin. This book is practically hers! There's so much more to Robin than just a pretty face and quick wit - this girl is intense and daring and unflinchingly kind - and as her backstory is revealed in this installment, you'll find yourself yearning for more Robin, for more Robin and Strike, for her git fianc
é to hopefully leave the country (or die). Honestly, I've lost count of the number of times I've wanted to jump into the book and shoot Pretty Boy Matthew in the head.

In a way, an explanation had never been the point. She had simply liked being the only one who wanted to find out the truth.
Any good novel is never just about the story, it's about the characters. That's what Career of Evil achieves, showing us the many sides to both our protagonists as well as the ruthless killer. The book is equal parts action and interaction, and it works. Yes, the reader wants to know whom the leg belongs to, but he or she also wants to know what's going to happen to Strike's dwindling business, his half-hearted romance, his obvious attraction towards his assistant (or, as Strike calls her, his partner - squeee!).
There had been more cracks than substance by the end: they had lived in a spider's web of fault lines, held together by hope, pain and delusion.
Talking about the mystery - well, I'm a rather smart cookie, but I really had no idea how to put all the clues together and discover who the killer was. Actually, I didn't even know what the clues were. The book seems to fall short in this one regard: the murder mystery is so complex that the final reveal might require another reading for the reader to fully understand what's going on.
As he passed a spectacular viaduct to his right, he thought about psychopaths, and how they were to be found everywhere, not only in run-down tenements and slums and squats, but even here, in this place of serene beauty. The likes of (spoiler) resembled rats: you never knew they were there, but you never gave them much thought until you came face to face with one.
The writing is a dream come true. Ghastly and literary at the same time, all thanks to Queen Rowling. I can't tell you how many times I reread and highlighted quotes simply for the sake of the quote, not because of the role they played in the story.
For a minute he looked out upon the ghostly park and was transfixed by the effect of the rising sun on leafy branches rising from the sea of vapour. You could find beauty nearly anywhere if you stopped to look for it, but the battle to get through the days made it easy to forget that this totally cost-free luxury existed.
Okay, and that ending. That ending. Cliffhanger, of course. Definitely not the ending I was expecting, but in terms of character development and interpersonal dynamics, it's going to go a long way in the gazillion sequels that are hopefully coming our way. Except we don't even have a tentative date for the next one. Or a name. Sigh.
I'm going to go with 4.5 stars out of 5 for this one.
Career of Evil
is a sinful delight, with enough twists and turns to keep you turning the pages for hours on end. It's definitely one of the
best books of 2015
.
Have you read the third Strike novel yet, Geeks? What are you expecting from the next book in terms of a certain friendship/relationship? Me, I'm all for it. Shipping and fangirling over make-believe couples is one of my hobbies, after all.
Talk to me in the comments below. Hope you're having a great 2016! :)