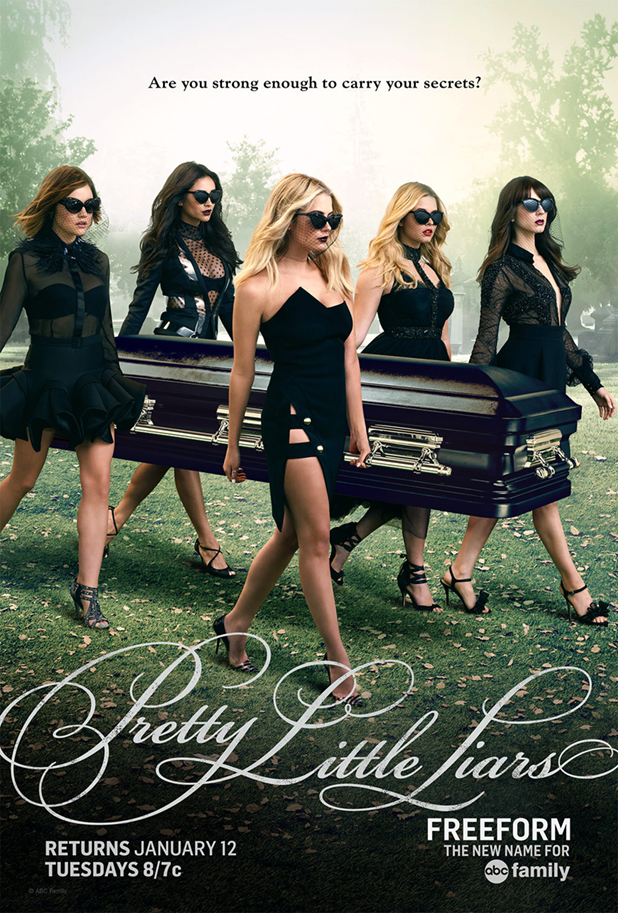 After years of tormenting and numerous shocking revelations, the Liars finally uncovered the true identity of "A" in the summer finale of season six. Now, five years later, the girls have each pursued their own paths and have started adjusting to a life without "A," when something happens in Rosewood that forces them to go back to where it all started. Torn between their old habits and their new lives, the events in Rosewood compel the Liars to join forces once again, as relationships are put to the test and secrets are revealed. Having matured over the past few years, these are not the same girls who left Rosewood. As new lies emerge – how will they push forward without going back?
Aaaaand it's #PLLWednesday again! How many months has it been since the last one? Too many to count, I'm sure.
Recap
The big deal about season 6B is that it starts with a five-year fast-forward, and we're shown sneak peeks of the lives of all the Liars post-Rosewood. Well, not in Alison's case, since she's staying in town as an English teacher to take care of her sister 'A' - I mean, Charlotte. Meanwhile, Aria is working in publishing, Spencer in politics, Emily as a bartender, and Hanna in fashion (obviously).
The court is finally considering releasing Charlotte from the hospital, so Alison convinces the Liars to come home and give false statements about how they've forgiven Charlotte. Are they crazy? Letting that monster out after everything she did to them? Have they forgotten the dollhouse?
Turns out, Aria hasn't. Her PTSD rears its ugly head during the hearing and she admits that she doesn't want Charlotte out. Ever.
However, the other Liars, plus Mona, claim to have forgiven Char for all she's done, and the court seems to agree. Charlotte is now a free woman.
Meanwhile, the Liars celebrate their homecoming by visiting the lovely new hotel in town which was once Radley Sanitarium - all thanks to Hanna's mom, apparently. Drunk on alcohol and their love for each other, the girls toast to new beginnings for Charlotte and, perhaps, themselves.
Buuuut happy endings don't exist in Rosewood. Charlotte's body is found the next day, thrown from the bell tower. Her death is ruled as homicide, and the Liars are once again suspects for the dead of a charming blue-eyed blonde. #parallels
Thoughts
Okay, even though I had known that there was going to be a funeral this episode, Charlotte's death was the last thing I had been expecting. I thought she would come back crazier than ever. What the hell did they do, killing her?
I'm confused about a few things, though: Ezra's Habitat for Humanity friend went missing? And that's why he stopped shaving?
Also, what did the girls do the Sara Harvey? Is she blind now, since she had a friend helping her walk? But she turned to look directly at the Liars. How'd she do that? And why is she back, that feral witch?
Toby was so adorable. My money's on him and Spencer getting back together in a few weeks, tops. Although I did sense something between Caleb and Spencer, too. Perhaps they had a brief relationship during those five years.
I bet Caleb will crash Hanna's wedding and make her his bride by the end of the season. Just you wait, Geeks.
All the moms look fantastic. Ashley Marin, like wine, only gets better with age. Veronica Hastings running for State Senator is an interesting twist. I'm sure the new villain will find some dirt on her and Spencer to pull her out of the running. Poor Pam Fields, though. Guess she still needs some time to get over her husband's death. He was the only good person on the show, so I don't blame her. The man was a jewel. *patriotic music*
Most Suspicious This Week
Sara Harvey. (I have a feeling she'll top this list every week. Sigh.)
I'd say Dr. Rollins, but since we know he's marrying Alison later on, I guess we can assume he's a good guy. The showrunners don't like to mess with the man candy.
And judging by next week's promo, Aria appears to be the main suspect, along with Mr. Fitz. Did they get even drunker and knock Charlotte out? I'd love for one of the Liars to have done it, but this show is too goody-goody for that stuff. Le sigh.
What did you think of the season 6B premiere, Geeks? Ho-hum or jaw-dropping? Did you like the Liars' new looks? I love Alison's homely dresses and Spencer's professional couture. I feel like Emily doesn't look different at all. She never does, does she?
Let me know who your suspects are. Who killed Charlotte DiLaurentis, and why? What are your predictions for this season's new baddie? Could one of the Liars finally haved killed in cold blood?
Kisses,
- S